On the 18th of June, the Avontuur returns to Hamburg! This means that the day after tomorrow will once again be one of the most important days for the coffee community here in Europe. You will have the opportunity to be part of the value chain and feel what it means to trade coffee globally. Follow the unloading from 08:30 am to 5 pm on our joint Instagram channel @avontuur_offloading. 
Friday, 18th of June – save the date
This year, over 60 tonnes of cargo for Cafe Chavalo, Brigantes, El Puente, Zotter Schokolade, Choco del Sol, el Rojito, Sol Nocturno, and of course Teikei Coffee will be sailed across the Atlantic. To all Avontuur lovers, sailing enthusiasts and community members: Save the date! On the 18th of June we will unload the Avontuur! It will arrive in the morning and will be unloaded directly. Since the current situation does not allow us to organise a big public unloading event yet, we as Timbercoast's partners have agreed to unload the 60 tonnes with a team of roughly 30 volunteers on shore and on board just like last year.
To join the event up close follow the livestream via @avontuur_offloading.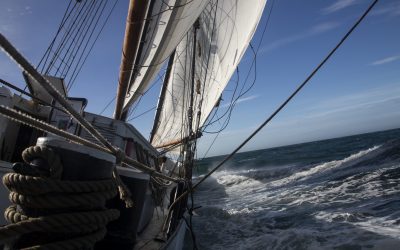 For us, the idea of an ideal, global economy means a fundamental change of premises. Cooperation instead of competition and high-quality, well thought-out material cycles must be the foundations for creating a fair global trade in addition to local relations. Faster,...